Tencel™ is a material created from the cellulose of wood pulp. It was developed as a form of rayon, but ended up being more environmentally sustainable than its predecessor.
Tencel™ is known for its similarities to cotton and silk. It has a characteristic silky smooth feel and is soft to the touch. Tencel also feels cool on your skin, especially when you're hot and sweaty. This makes it an excellent choice for summer clothing.
What is the texture of Tencel modal and Tencel lyocell?
Tencel™ modal fibers are made from beech wood pulp while Tencel™ lyocell is made from eucalyptus trees. The fibers are very similar and the fabric have much of the same properties.
Think of Tencel™ modal as being the cheaper, rougher version of Tencel™ lyocell. This doesn't mean Tencel™ modal is poor quality. In fact, Tencel™ modal feels twice as soft as cotton and is able to withstand more wash and dry cycles.
Tencel™ lyocell has the softness of cotton and the luxurious smoothness of silk. It continues feeling gentle on your skin even after repeated washes. Lyocell clothes glides on your skin and drapes beautifully.
This 100% Tencel lyocell shirt dress lays very nicely and is a good transition piece from summer to fall:
Further reading: Tencel vs Silk: What is the difference?
Is Tencel itchy?
Highly allergic people rejoice! Tencel™ lyocell is gentle on the skin and unlike yak wool, not itchy at all. In fact, it's hypoallergenic and recommended by the National Eczema Society for people with skin allergies.
Trapped heat and sweat are two of the biggest contributors to bacterial and fungal growth, which can cause itching. Unlike synthetic fabrics, Tencel™ is breathable and moisture-wicking, allowing heat and moisture to dissipate.
If you're prone to vaginal thrush, Tencel™ underwear keeps you cooler and dryer than cotton underwear. Tencel's gentleness on the skin also makes it a great choice for baby rompers.
These Supersoft Jockey briefs come in packs of 3:
Is Tencel warm or cool?
Tencel™ has a higher moisture regain and this makes it more moisture-wicking and improves it ability to evaporate heat loss.
A study done by Zhang et.al even compared Tencel™ to cotton and found in warmer temperatures (up to 35 degrees), women wearing Tencel™ had lower temperatures than those wearing cotton.
This explains why Tencel™ clothing and bedsheets feel cool on your skin when you're hot and sweaty. It also makes Tencel™ an excellent fabric choice for hot sleepers and warmer climates.
Interestingly, in cooler weather, Tencel™ keeps you warm and dry.
The Linenwalas 100% Tencel lyocell bed sheet set will help you sleep like a baby on warm and humid summer nights:
Does Tencel get static?
Due to its ability to absorb moisture, Tencel™ fibers are tension-free and has a lower electric charge. This means your clothing doesn't get static. Hurray for static-prone people!
Is Tencel a lightweight or heavyweight fabric?
Tencel™ is a fine fiber and it can be weaves into any kind of fabric, either by itself or blended with other fibers like cotton or wool. So you can't really say if Tencel™ is lightweight or heavyweight. It can be made into both lightweight and heavyweight fabric.
The weight of fabric is calculated using grams per square meter (GSM). A lightweight fabric is roughly defined as 30-150 GSM, medium weight 150-350 GSM and heavy weight 350+ GSM.
To put this in context, when you think of lightweight fabric, floaty chiffon and linen comes to mind.
Flannel, denim and wool are examples of heavyweight fabric.
While Tencel™ duvets can be as heavy as 730 GSM, 100% Tencel™ clothes tend to be made from fabric that is about 60-130 GSM. This puts it squarely in the lightweight category but there is nothing flimsy about it. When you rub the fabric between your fingers and give it a good tug, you'll feel how substantial it is.
This is a close-up of a Tencel lyocell t-shirt. You can almost imagine how soft and silky this will feel on your skin.
Is Tencel comfortable to wear?
Tencel™ might be the new fashion buzzword but it's actually been around for years. People have been wearing Tencel™ clothing since the early 90s and they feel that it could be one of the most comfortable fabrics you will find in any store.
I love wearing Tencel™ dresses because I like how it feels against my skin. The fabric breathes well and is much better for the environment than cotton. I also like that it doesn't wrinkle easily, which is great for traveling. I would recommend this fabric to anyone looking for a comfortable fabric that is easy to care for!
Will this 100% lyocell shirt become your new favorite top?
Does Tencel feel like cotton?
If you've never felt a piece of Tencel™ cloth before, it's hard to imagine what it feels like. But everyone has a trusty cotton t-shirt.
Compared to your favorite cotton dress, Tencel™ feels lighter, silkier, smoother and cooler to the touch.
Cotton, on the other hand, feels warmer and cozier.
Many see Tencel™ as a cotton alternative but it is so much more. Sometimes, Tencel™ fibers are blended with cotton fibers to get the best of both worlds.
This classic fit light-weight sweater is made of a soft cotton-modal blend and has >7000 5-star reviews on Amazon:
Does Tencel feel like silk?
Tencel™ is the poor woman's silk. It certainly has the look and feel of silk but is softer and doesn't wrinkle.
It certainly doesn't feel as fine as silk but because it breathes well and is moisture-wicking, it's more comfortable than silk, especially in warmer climates.
Tencel™ is also a lot easier to care for and much more affordable than silk.
Or you could go for a Tencel-silk blend like this  luxurious Eileen Fisher T-shirt:
To wrap up
Tencel™ is a popular high-end fabric in fashion today and for good reason. It's silkier, softer, and more luxurious than cotton and is more affordable than silk.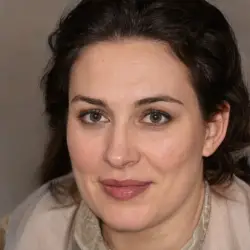 Latest posts by Sharon James
(see all)