When you've woken up late and need to be at a meeting in 10 minutes, there is nothing worse than pulling a shirt out of the closet and realizing that it needs ironing. Even on a good day, I find ironing an unbearably tedious chore. Wouldn't it be nice to never have to look at an iron again?
Unfortunately, most synthetic clothes that are marketed as anti-wrinkle are finished with toxic chemicals. Is there a natural alternative? And is Tencel the answer?
One of Tencel's most notable features is its wrinkle resistance. This is because the surface of Tencel fibers are smooth and strong bonds exist between the fiber molecules. As a result, Tencel does not wrinkle and needs little to no ironing.
Does Tencel wrinkle easily?
Unlike other plant-derived fabrics like linen and cotton, Tencel does not wrinkle easily.
Even if you stuffed it at the bottom of your backpack and it has travelled halfway round the world with you, it will emerge looking somewhat fresh.
This makes Tencel clothing perfect for travel and iron-haters like me.
Just bear in mind that Tencel fiber is often blended with other fibers, especially cotton. These Tencel blends might wrinkle a lot easier than pure Tencel depending on the type of blend, weave and quality of the fabric.
This Eileen Fisher Tencel dress is the perfect travel dress. It's light and airy, doesn't need ironing and can be easily dressed up or dressed down.
Why is Tencel wrinkle-resistant?
There are two main reasons why Tencel doesn't wrinkle easily:
Strong molecule bonds
Tencel fabric has a high glass transition level. This is the temperature at which the bonds between the polymers that make up Tencel fibers become weak and break. When this happens, wrinkles form. As the bonds between Tencel fibers at a molecular level are strong, it doesn't break easily.
Smooth fiber surface
Tencel is a type of regenerated cellulose fiber. During the manufacturing process, raw wood pulp is liquidified and pelletized. These pellets are run through spinnerets to form Tencel fibers. This process gives Tencel fibers a smooth surface without small fibers sticking out to snare neighboring fibers during wash and wear.
How do you keep Tencel from wrinkling?
If you're a bit of a perfectionist and want your Tencel shirt to be 100% crisp and wrinkle-free, here are some things you can do:
Follow the care label. This goes without saying but that doesn't stop people (me included) from washing my 'dry-clean only' clothes. As long as you're willing to take the risk, I say go ahead.
Hang your Tencel clothes rather than fold it.
Wash by hand and dry on a flat surface.
If you're using a washing machine, don't tumble dry and definitely don't put it in the dryer.
Choose Tencel blends that don't wrinkle easily I don't like to say this but Tencel-synthetic fiber blends like Tencel/polyester and Tencel/nylon are more wrinkle-resistant.
You can practically live in this polyester/Tencel blend t-shirt from The North Face: 
Check it out on Amazon
How to get wrinkles out of Tencel
If you get a wrinkle in your Tencel garment, ironing it briefly will quickly get the wrinkles out. Just be very careful as Tencel fabric doesn't like hot irons.
Here are some tips on how to get wrinkles out of Tencel clothes:
Hang up and moisten the wrinkly part with water.Use your hand to smoothen out the wrinkles.
If that doesn't work, use a steamer on low setting and carefully steam the garment. That should do the trick most times.
If it didn't, that's when you bring out the big gun – your iron. Turn your piece of clothing inside out before ironing. Use a low setting so the iron is warm but not hot.
To further protect the fabric, put a piece of damp towel or scorch mesh over your Tencel garment and iron over it.
Don't daydream when you're ironing. If you linger over one spot for too long, you will destroy your heat-sensitive Tencel clothes.
Check it out on Amazon
To wrap up
Tencel is an eco-friendly non-toxic fabric that doesn't wrinkle easily. That's why Tencel clothing are loved by busy people and iron-haters like me.
You might also be interested in my guide on how to take care of your Tencel clothing the eco-friendly way.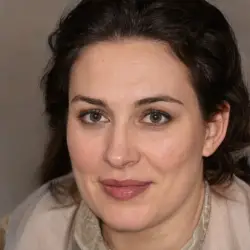 Latest posts by Sharon James
(see all)