What  is more absorbent than cotton, cooler than linen and softer than silk?
Tencel™ lyocell.
What can you stuff into your backpack and pull out to wear without ironing?
What is machine-washable and line-dries in hours on a cloudy day?
What is produced from renewable sources and biodegrades in a few months?
You got it. Tencel™ lyocell clothing.
Why is Tencel™ lyocell the best eco-friendly fabric?
Tencel™ lyocell is great for the planet
The wood used to make Tencel™ lyocell fabric is exclusively sourced from certified sustainably managed forests.
Lenzing group (the company that makes the Tencel™ brand of lyocell) produces Tencel™ lyocell fabric is a closed loop system – more than 99% of the chemicals used are recovered and recycled.
Despite being a processed fabric, Tencel™ lyocell is 100% biodegradable.
It is completely plant-based and therefore, cruelty-free and vegan
Tencel™ lyocell is pure white when produced. Unlike other natural fibers like cotton, it doesn't need any bleaching.
Tencel™ lyocell is great for you and me
Tencel™ lyocell clothing for women
Here are a few examples of Tencel™ lyocell clothing by my favorite ethical fashion brands:
The Ezra Top by Prana is made of 100% Tencel™ lyocell fabric. It's super soft, wrinkle-free and comes in 2 colors; vino and chalkboard.
Read my detailed review of Prana's sustainability.
The Synergy True Blue Top is 100% woven Tencel™ chambray. It looks exactly like denim but is made of sustainably harvested eucalyptus bark.
Read my sustainability report on Synergy.
The stunning Bella Top by Aventura is another fair-trade certified 100% Tencel™ lyocell top that is also very affordable.
These Enclave Wide Leg Pants by Coolibar are not only made of 100%  Tencel™ lyocell, they are also UPF 50+ and fits up to size  3X (43 inch waist).
Further reading: My top picks for plus size Tencel™ lyocell clothing
Want to learn more about Tencel™ lyocell? Read on.
What is lyocell?
Lyocell is a form of rayon, made from dissolving wood pulp. This mixture is then processed with chemicals to form fibers that are spun into yarn and woven into cloth.
Further reading: Tencel™ lyocell vs rayon: Millennial grandchild vs old-school grandparent 
What is Tencel™ lyocell?
Tencel™ lyocell refers to a specific brand of lyocell fabric produced by the Lenzing Group in Austria. Tencel lyocell is made of cellulose of eucalyptus wood pulp sourced from sustainably managed forests in Austria.
Are there other sources of lyocell fabric?
Lyocell is also sold as Excel™ by Birla Cellulose.
* In January 2021, Birla and an Australian company Nanollose, filed a joint patent application for the production of a high tenacity lyocell made using microbial cellulose. I'm sure this will be the next generation of lyocell fabric.
Why am I biased towards to the Tencel™ brand of lyocell?
Because Tencel™ lyocell is the most sustainable brand of lyocell on the market. The Lenzing Group (the company that produces Tencel™) is fully committed to sustainability and also produces other modern eco-friendly fibers like EcoVero™, Veocel™ and Lenzing™.
The Tencel™ brand of lyocell is also by far the most popular lyocell fabric used by slow fashion designers.
As newer, more eco-friendly fabric is produced, I might change my mind. For now, Tencel™ has my vote.
Is Tencel™ lyocell natural or synthetic?
Tencel™ lyocell fabric is a bit of both. The lyocell fibers are naturally derived from wood pulp but is processed with chemicals to produce lyocell fabric. However, unlike synthetic fibers, it is biodegradable.
Unlike synthetic fibers, Tencel fibers are not made from petro-chemicals and therefore, do not release microplastics when worn and washed.
Is Tencel™ lyocell sustainable?
There is a bit of debate on this but Tencel™ lyocell is generally considered a sustainable, environmentally-friendly fabric option. Compared to synthetic petroleum-based fabrics like nylon and polyester, Tencel™ lyocell wins hands-down.
Compared to natural fibers like cotton, the eucalyptus trees that Tencel™ lyocell is sourced from use infinitely less labor, water and pesticides. The trees are also from sustainably-managed FSC-certified forests.
Unfortunately, production of lyocell fabric from the raw material is energy-intensive and uses toxic chemicals. The Lenzing Group counteracts these negatives by using a closed-loop process that recovers more than 99% of the chemicals used and recycles it. Lenzing factories also mostly use bioenergy derived from their wood waste to power their production line.
Now you see why I am biased towards Tencel™?
Is Tencel™ lyocell a good fabric?
Yes. As you read in this article, Tencel™ lyocell is a sustainable eco-friendly fabric. It's also soft, breathable, long-lasting and easy to take care of. What more can you ask from a piece of cloth?
Are all clothing made of Tencel™ lyocell equal in quality?
Just as not all doctors are as good, not all Tencel™ lyocell clothes are good. Some brands still use toxic conventional dyes to color their Tencel™ clothes. Some others combine Tencel™ fibers with synthetic fibers like nylon, rendering it non-biodegradable.
That's why it's important to buy Tencel™ lyocell clothes from sustainable eco-friendly brands and read the fine print.
Is Tencel™ lyocell toxic?
Tencel™ fabric is produced using N-Methylmorpholine N-oxide (NMNO). NMNO is generally considered 'low toxicity' and definitely less harmful than chemicals used to process other fabrics like bamboo and polyester.
Lenzing also has OEKO-TEX certification for all their Tencel™ fabric. This means the fabric has been tested for harmful substances by an independent OEKO-TEX partner and found to be harmless.
Further reading: 5 most toxic fabrics to avoid (choose these healthier options instead)
Is Tencel™ lyocell clothing safe to wear?
By virtue of the above, pure Tencel™ clothing are safe.
However, as mentioned before, some fashion brands blend Tencel™ with other fiber types and some use toxic dyes. In these cases, especially if you have chemical sensitivities, the answer is no.
For peace of mind, buy your Tencel™ clothing from the ethical companies I listed above or other eco-friendly fashion brands.
What type of clothing is made with Tencel™ lyocell?
Tencel™ lyocell is now used to make almost every type of clothing, from underwear to dresses. It's even used in accessories like scarves and hats.
Check out this article about all the apparel and homeware Tencel is used for.
Can you wear Tencel™ lyocell clothing if you have sensitive skin?
Yes you can. In fact, the National Eczema Society recommends Tencel™ lyocell clothing for eczema sufferers and those with sensitive skin. 
Tencel™ lyocell is derived from a natural source (raw wood), making it naturally hypo-allergenic. Tencel™ fabric is also soft, moisture-wicking and breathable, making it a great option for those with eczema or sensitive skin. Just make sure you choose clothes that are 100% Tencel™ colored with non-toxic dyes.
How do you care for Tencel™ lyocell clothes?
In general, you should be able to wash your Tencel™ lyocell clothing in the washing machine. Just make sure it's in cold water as Tencel™ fabric shrinks with heat. Also, it's always a good idea to wash your clothes using a gentle or delicate cycle.
Never use a tumble drier, line-dry instead.
As Tencel™ clothing are generally wrinkle-resistant, there is no need to iron (yeay!) but if you really want to, use a warm (not hot) iron as too much heat can scorch the fabric.
One of the few drawbacks of Tencel fabric is that it stains easily. Make sure you wash the stain out as soon as it happens to prevent it from setting in permanently.
Sometimes Tencel™ fibers are blended with other fibers and this might change the way you can care for the item. In all cases, read the care instructions before you click to buy.
How does Tencel lyocell compare to other popular fabrics?
I won't go into details here but check out these articles for the face-off between Tencel and other fabrics:
To wrap up
I am super impressed Tencel™ lyocell and Lenzing Group, the company that makes it. They have ensured that a man-made fabric is produced with minimal impact on the environment.
The Tencel™ lyocell fabric itself is near perfect, being softer than cotton, cooler than linen and smoother than silk. What more can we ask for from a piece of cloth?
Amazon is home to quite a few sustainable fashion brands. These are some of my favorite ethical fashion brands on Amazon.
Want to know how to be more sustainable with your fashion choices? Read my guide.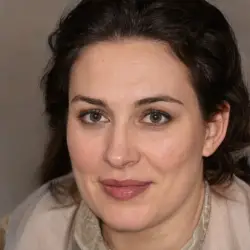 Latest posts by Sharon James
(see all)