First, read the care label.
I say that with tongue in cheek but you would be surprised how many people don't. The best way to take care of your Tencel™ lyocell clothing is to follow what the care label says, especially if the item consists of a blend of Tencel™ lyocell and other fibers.
I will, however, give you some tips on how to care for your Tencel™ clothes in a more eco-friendly way.
How do you wash Tencel™ lyocell clothing?
Turn your Tencel™ lyocell clothing inside out before washing.
Wash it in a garment bag, preferably a guppyfriend wash bag as it filters microfibers and prevents them from ending up in the ocean.
Machine wash on a cold setting. Tencel™ fabric doesn't like heat and hot washes consume enormous amounts of energy.
Wash it in a full load. There's no benefit to the Tencel™ clothing itself when you do this but washing full loads mean less frequent washing and less water wastage.
Wash on a gentle or delicate cycle to prevent white streaks on the fabric.
Handwash if possible. I've always been too lazy but it would only take a few minutes to gently hand-wash it in  cold soapy water. Just remember not to wring it out. Instead, press your clothes between sheets of towels to remove excess water before line-drying.
Use a gentle, eco-friendly laundry  detergent like The Laundress Delicate Wash.
How do you get rid of stains on Tencel™ lyocell clothing?
Unfortunately Tencel fabric takes up stains very easily. Here's what to do if it happens:
'Treat' stains as soon as it happens. The longer stains have to soak into the fiber core, the harder it will be to remove without causing damage.
For stains such as coffee, tea, ink, juice, wine, grass, blood, urine and poo stains, use The Laundress Stain Solution. It's eco-friendly and safe to use on any color fabric.
For oil-based stains like makeup, grease and sweat stains, use The Laundress Wash & Stain Bar.
Wash your stained clothes as soon as possible.
Read my article on how to get different types of stains out of Tencel clothing.
What is the best way to dry Tencel™ clothing?
If you hand-washed, dry it by pressing between two sheets of towels to remove excess water.
If you are machine-washing, don't tumble dry.
Instead, allow your Tencel™ clothing to drip-dry in the shade. Don't worry, Tencel dries very quickly, even when its not in direct sunlight.
How do  you iron Tencel™ clothing without damaging it?
Don't iron it. One of the wonders of Tencel™ clothing is that it's wrinkle-resistant. If you line-dry it, the material magically smoothens itself out and is ready to wear as is.
If you really do have to iron, use a cool iron. NEVER use a hot iron as it will scorch the fabric. Remember Tencel™ doesn't like heat.
Another option is to gently steam your Tencel™ clothing.
How should you store Tencel™ clothing so they last longer?
Tencel™ can be susceptible to mildew. Even when not in use, don't store your Tencel™ clothing in plastic clothes bags. Instead, use a breathable cotton bag.
As with other types of clothing, knit items should be stored folded to prevent stretching. Woven items can be hung.
To wrap up
Taking good care of Tencel™ lyocell clothing in an eco-friendly way is not hard. With a bit of effort, you will get many years of use out of your Tencel™ clothing. It's the perfect combination of sustainability and value-for-money!
If you haven't already, make sure you read my simple guide on sustainable fashion to help you make the right choices.
Further reading: My top picks for sustainable plus size Tencel™ lyocell clothing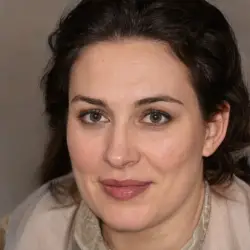 Latest posts by Sharon James
(see all)