Tencel lyocell is often used as a more eco-friendly substitute for cotton or silk. If you are looking for a light-weight, wrinkle-resistant and breathable fabric with enviable drape and soft feel, Tencel lyocell might be the answer for you. But some say Tencel lyocell clothing are too thin and transparent, offering no privacy and protection. Lets debunk this urban myth.
Even though Tencel lyocell clothing is typically lightweight, due to its high density and tight weave, the fabric is not usually see-through. In fact, it is usually opaque but some lighter-colored tops can be semi-opaque. 
Let's take a deep dive:
Is Tencel lyocell see through?
You will find that Tencel lyocell fabric is usually opaque. As Tencel fibers are pricier than many other natural and synthetic fibers, Tencel clothing are often light-weight and of a thinner weave. However, there is a high density of fibers used and the weave is usually tight.
You will be hard pressed to find a sheer piece of Tencel lyocell cloth. However, some Tencel tops, especially lighter colored ones, can be somewhat semi-opaque. As in, if you wore a black bra under your white Tencel top, people will see it.
This Eileen Fisher Tencel sweater is semi-opaque:
Factors determining fabric transparency
The 3 main determinants of a fabric's transparency or lack thereof are:
Fabric weave
The weave of a fabric refers to the way the fibers are interwoven. When a piece of cloth is woven with a low density of fibers, this results in a thin, flimsy, and relatively see-through piece.
Even if a piece of cloth is extremely thin, there will still be some cloudiness that will distort your view.
Organza is a flimsy, sheer fabric
Texture
Fabric texture refers to the apperance and feel of the fabric. Words that describe texture include rough, smooth, coarse, fine or furry.
A finer, smoother textured cloth tends to be more transparent.
Tencel twill is thicker, coarser and opaque
Pattern
Patterns and colors affect transparency too. A lighter colored shirt like white, cream and yellow can be more see-through compared to the same shirt in a darker color like blue or black.
Patterns will also distract your eyes makes a piece of cloth less transparent.
Even if this Tencel Aventura tank top is made of a thinner material, the pattern and color makes it more opaque:
Check it out on Amazon
The difference between see through, semi-transparent and opaque
The 'see-throughness' of a fabric exists on a spectrum of 100% clear to 100% opaque.
See-through or transparent fabric refers to a piece of cloth that you can literally see through, as if you were not wearing anything. An example of see-through material is clear plastic.
Only Lady Gaga will wear a clear plastic dress. Over raw meat slabs.
Check it out on Amazon
The next level up from straight up transparency is sheer fabric. These types of fabric are made with fine thin fibers in a loose weave so there are lots of space between the fibers. Examples include chiffon, organza and fine mesh.
Organza allows you to see-through it with some cloudiness:
Check it out on Amazon
Translucent fabric allows you to see through them but with haze and texture to hinder a clear view.
You can also call translucent fabric semi-transparent or semi-opaque. It's like calling a glass of water half full or half empty. It means the same thing. These types of fabric are also made with thin fibers and have a loose weave, but they are not as loosely woven as sheer fabrics.
Silk, nylon, rayon and polyester are some common fibers that can be weaved into semi-transparent fabric.
Check it out on Amazon
An opaque piece of fabric doesn't let you see through it at all. They are usually heavier weight and is so tightly woven that it doesn't let any light through.
Tencel denim is opaque, even when it is wet:
Check it out on Amazon
To wrap up
Tencel lyocell fabric is usually opaque, not allowing light to pass through. But don't let this put you off. No matter how thick it is, Tencel fabric allows air and moisture to pass through freely, keeping you cool and dry.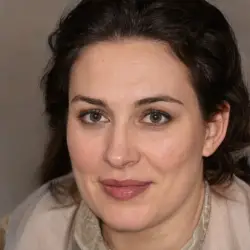 Latest posts by Sharon James
(see all)