Synergy Organic Clothing is a family-run company based in Santa Cruz, California. They are a certified B corporation and are committed to social and environmental stewardship.
They exclusively use organic cotton and non-toxic dyes in their  lifestyle clothes and activewear. You can find them in their Amazon Store.
About Synergy Organic Clothing
Kate Fisher first started the company during her first trip to Nepal in 1993. In 2006, she partnered with her husband, Henry, and they started focusing on making eco-friendly clothing from then. Fast forward to today, they are still in charge of the small company and are directly connected to their family of employees in the USA and abroad.
Synergy Organic Clothing make lifestyle clothes and activewear. They design their clothes in HQ at Santa Cruz and source their GOTS certified organic cotton from India. Their clothes are manufactured in Fair Trade Certified factories in India and Nepal, shipped back to their warehouse in Santa Cruz and is shipped out again to customers worldwide. Not the smallest carbon footprint when it comes to transportation but most fashion brands are doing this.
What is Synergy Organic Clothing's mission?
To create clothing with minimal environmental impact and empower people through ethical employment practices.
What do Synergy Organic Clothing sell?
They have a a nice range of lifestyle clothes that would double up for both work and weekend outings. And as with almost every fashion brand out there, they also make activewear.
My favorite sustainable Synergy Organic Clothing buys
I love this 100% organic cotton Synergy Justine Shirt Dress  
This Synergy True Blue top is made of 100% woven Tencel chambray. Tencel™ lyocell is one of the most eco-friendly fabrics available.
Check out the Synergy Onward Jumpsuit. It's made of 100% organic cotton and comes in black, lily pad and ecru olive.
What is Synergy Organic Clothing doing to be sustainable?
Environmental Impact
Synergy Organic only uses GOTS certified organic cotton instead of traditionally-grown cotton. They also use recycled polyester and Tencel.
They use low-impact non-toxic dyes for their clothes to minimize water usage. Non-toxic dyes are also safer for the factory workers and for us.
Synergy runs a recycling program. They are only accepting Synergy-branded used clothes and you have to pay for postage yourself. But in return, you get a 25% off voucher. That's not too bad.
Labor Conditions
Their clothes are manufactured in a Fair Trade Certified factory in India. In Nepal, even though the factory is not certified fair trade, they employ fair labor practices.
Social Responsibility
By employing Indian and Nepalese locals at fair living wages, Synergy Clothing is supporting and empowering the local community.
Transparency
They detail some of their sustainable practices on their website but don't go into the nitty gritty stuff. For example, we don't know which factories make their clothes and if they are indeed fair trade.
They clearly label the types of fabric used in their clothes on all their product pages so you can make the best choice.
What certifications do Synergy Organic Clothing have?
Impressively, Synergy Organic is a Certified B Corporation. This certification is up there when it comes to proof of sustainable practices. They scored an overall B impact score of 82.4. To put this in perspective, the average non-B certified company scores a 50.
They also have the usual Global Organic Textiles Standard (GOTS) certification for their organic cotton fabric and use a Fair Trade Certified factory. They are part of Fair Trade USA.
Further reading: Organic cotton vs cotton: Why is organic cotton better?
Anything else you should know about Synergy Organic Clothing?
Unfortunately some of their clothes, especially ones in their activewear and eco-luxe range, are still made of  a blend of biodegradable and synthetic fabric like nylon, acrylic and elastane. To make the best choices for you, read their product details before you buy.
Their clothes are also somewhat expensive but they have a great sales section!
To wrap up
I am a big supporter of smaller businesses and it's great to see a family-run company achieve Certified B Corp status.
Synergy Organic could do better with getting rid of their use of synthetic fibers but overall deserves support for being on the right track to sustainability.
Check out their Amazon store here.
Read my guide to sustainable fashion for a crash course in making the right fashion choices.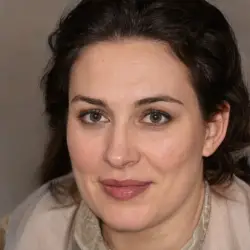 Latest posts by Sharon James
(see all)