Tencel™ is luxuriously comfortable and has many environmental and personal benefits. Sounds like it would be an amazing textile choice for your home and wardrobe but before you replace all your clothes with Tencel™, there are some important facts you should know about the safety of Tencel™.
Tencel™ is a semi-synthetic fiber and undergoes chemical processes to become the luxurious Tencel fabric we know and love. But does this make Tencel toxic? Thankfully, no.
Tencel is safe and non-toxic to consumers as well as to the people who are involved in making it. Tencel™ is produced using the chemical N-Methylmorpholine N-oxide (NMNO) which is generally considered 'low toxicity'. All Tencel™ branded lyocell and modal fabric are OEKO-TEX certified to be free from harmful chemicals.
Read on to learn more:
How is Tencel™ made?
TENCEL™ is trademarked lyocell and modal fabric that is made from sustainable sources of eucalyptus or birch trees.
The hard wood trees are harvested, cut and fed into a wood chipper.
The wood chips are then dissolved by chemical digesters into pulp.
The pulp goes through more processing and is soaked in N-Methylmorpholine N-oxide (NMNO) until the cellulose dissolves into a clear solution.
The solution is then pumped through spinnerets to form long strands of fiber.
These long strands of fiber then go through various mechanical processes and spun into yarn.
The yarn is then woven or knitted into the various fabric types.
You'll be pleased to know NMNO is significantly less toxic than other chemicals used to process fabric.
After the job is done, almost all NMNO (99%) is recovered and reused instead of released into the environment.
If you are interested in the nitty gritty details of how Tencel™ is made, read this article.
What chemicals are used to manufacture Tencel™?
The main chemical used to manufacture Tencel™ fiber is N-Methylmorpholine N-oxide (NMNO). It is an amino oxide and is classified as an irritant and health hazard. However, NMNO is generally considered to be 'low toxicity' and there is no evidence that it causes cancer.
After chemical processing, a lubricant like soap or silicone is also used to detangle the fibers and make it easier to spin it into yarn later.
There are other chemicals that are used in the manufacturing of Tencel™ from raw material to finished yarn. However, NMNO is the main solvent used that is of interest to us consumers.
Is Tencel™ clothing safe to wear?
Lenzing (the company that manufactures Tencel™) is absolutely confident that their product is non-toxic and 100% safe. But which company has ever spoken badly about their own wares? That's why Lenzing has their Tencel™ fiber OEKO-TEX certified by a third party. This means that there is no harmful chemicals left in the finished Tencel™ yarn.
If a piece of clothing is 100% Tencel™ and is OEKO-TEX certified, you can be reassured that it is safe to wear.
However, some fashion brands blend Tencel™ with other fiber like polyester and nylon. They also use synthetic toxic dyes. You shouldn't wear Tencel™ clothing from these brands, especially if you have chemical sensitivities.
Also, even though Tencel™ is a brand of lyocell and modal, there are other companies making these fabrics that don't follow the same strict processes as Lenzing. These products are not certified to be free from chemicals.
For peace of mind, buy your Tencel™ clothing from ethical companies or other eco-friendly fashion brands. Look for third party certifications to prove that your clothing is non-toxic and safe.
Non-toxic Tencel clothing brands
These eco-friendly and ethical fashion brands use non-toxic dyes and safe manufacturing practices to produce their Tencel garments:
PrAna
PrAna is on track to being a sustainable fashion brand. In 2021, prAna only used Tencel branded lyocell and modal for their Tencel clothing. Check out their Amazon store.
Toad & Co
Toad & Co only uses organic, recycled or low impact materials in their clothing. Check out their Amazon store.
Chakra Skirt – Tencel/organic cotton
Synergy Organic Clothing
It's not easy to be a certified B corporation but Synergy Organic Clothing makes the cut. They exclusively use non-toxic dyes in their clothes. You can find them in their Amazon Store.
Synergy True Blue top– 100% woven Tencel chambray.
To wrap up
Even though Tencel™ is produced chemically, it uses a low-toxic solvent and is then cleaned up so the end product is free from harmful toxins. It's a safe, eco-friendly alternative to conventional cotton and polyester. It's so safe, you would even put your baby in Tencel rompers! 
Just make sure you buy from a fashion brand that uses non-toxic dyes as well.
Curious to know if Tencel is organic? Read this.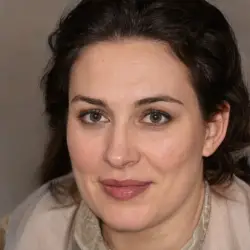 Latest posts by Sharon James
(see all)