A great pair of jeans is like red wine. It gets better with age. But not all jeans deserve to be kept. The best ones are those that you can throw on any time, even on those bloated days, and feel comfy and sexy at the same time.
You know what I'm talking about.
Enter Tencel™ jeans.
What is Tencel™ jeans again?
Jeans made with Tencel™ fabric as opposed to the usual denim cotton, or worse, cotton polyester blend (yucks!).
Tencel™ refers to a specific brand of rayon fabric made from dissolving wood pulp. It's produced by the Lenzing Group in Austria. Tencel™ denim, Tencel™ lyocell and Tencel™ modal are all fabrics that can be used in Tencel™ jeans.
If you're interested to dive deep into Tencel™, I'll tell you why I think it's the most eco-friendly fabric.
What's so good about Tencel™ jeans?
Besides the fact that Tencel™ is sustainably-produced (IMHO it's more eco-friendly than organic cotton), it's heavenly soft, breathable and naturally wrinkle-free.
Tencel™ jeans allow you to live in them, whether it's squatting to pick your baby up from the floor or hiking up Mount Kilimanjaro. It's that versatile.
Tencel™ denim jeans vs cotton denim jeans
You know that new jeans feeling? You wear a pair and it's comfy enough but kinda stiff and not very cosy? That's cotton denim.
Tencel™ jeans are soft and cosy from the start and only gets better with age.
Which brands do Tencel™ jeans?
Most good jeans brands are already offering Tencel™ jeans, and these are some of my favorites:
Mavi is the Turkish word for blue. All their jeans are responsibly made in Turkey by factories accredited with globally recognized ethical working conditions.
Check out the Mavi store on Amazon.
Coolibar not only makes 100% Tencel jeans, they are also UPF 50+ and fits up to size 3X (43 inch waist).
Check out the Coolibar store on Amazon.
DL1961 produces the most eco-friendly and sustainable jeans on earth. While 'normal jeans' take about 1500 gallons of water to produce, DL1961 jeans take less than 10. Impressed?
Check out the DL1961 store on Amazon.
Originally known as 'Not Your Daughter's Jeans', all NYDJ jeans are designed by women and made with their Lift Tuck® technology, slimming panels. criss-cross design to flatten the front and curve-contouring construction to flatter curves in the back.
Check out the NYDJ store on Amazon.
Level99
Level99 is based in Los Angeles and makes their jeans in the U.S. They recycle their water, use natural dyes and sustainable materials. Good job.
Check out more jeans from Level99.
Want to know more? These are some other common questions about Tencel™ jeans:
Is Tencel™ a denim?
To answer that question, we need to look at the meaning of denim:
Denim refers to a hard-wearing cotton twill fabric. So no, Tencel™ is not cotton denim.
Tencel™ denim is form of rayon fabric, sustainably produced from wood pulp. It's hands down more eco-friendly than cotton denim.
Is Tencel™ stretchy in jeans?
Tencel™ is not known for its ability to stretch. In fact, it is famous for being shrink-resistant.
Tencel™ jeans are often made with a blend of cotton and Tencel™. To increase stretch in skinny jeans, a small amount of elastane is used.
To wrap up
Once you've worn jeans made with Tencel™, you'll never go back to garden variety denim cotton jeans. These jeans are here to stay and you'll want to keep them forever.
Quick links: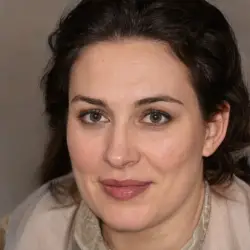 Latest posts by Sharon James
(see all)